On one side of the gym at Geneseo High School, a group of seniors talked with executives from a downtown bank. On another, students met with representatives from a local seed company.
Such was the scene on Friday at GHS, which hosted its first annual job fair and career expo. Approximately 40 local businesses and organizations were on hand for the event, which was open to seniors, juniors, sophomores and freshmen. Each class was allotted 45 minutes to make their way through the gym and speak with different employers.
"A point of emphasis of ours is creating a pathway for students and we're fortunate to have a great mix of different pathways on display," noted Travis Mackey, the former GHS principal who organized the event. "Several different industries are represented, including agriculture, business, education, engineering, finance, healthcare and manufacturing. We're trying to meet the needs of as many different students as possible."
Mackey, who now serves as Director of the Career & Technical Education Center, explained that the event was to provide students with an opportunity to learn about jobs in and around our community, as well as the necessary education and skills.
"Some of these businesses will be hiring students coming right out of high school, whether that's for a summer role or full-time position," said Mackey. "This event not only presents job opportunities to our students, but it also enables them to explore different careers. Our students will learn more about our community's businesses and in the process, take steps towards figuring out what they can do and what they want to do."
As Mackey organized the career fair and job expo, he was encouraged by the enthusiasm from local businesses to attend. He said some also extended an invitation for students to visit their offices, learn more, and possibly job shadow.
"There's a lot of value for the students and businesses in having these initial conversations," Mackey stated. "These are the kinds of connections that we hope will be good for future students as well."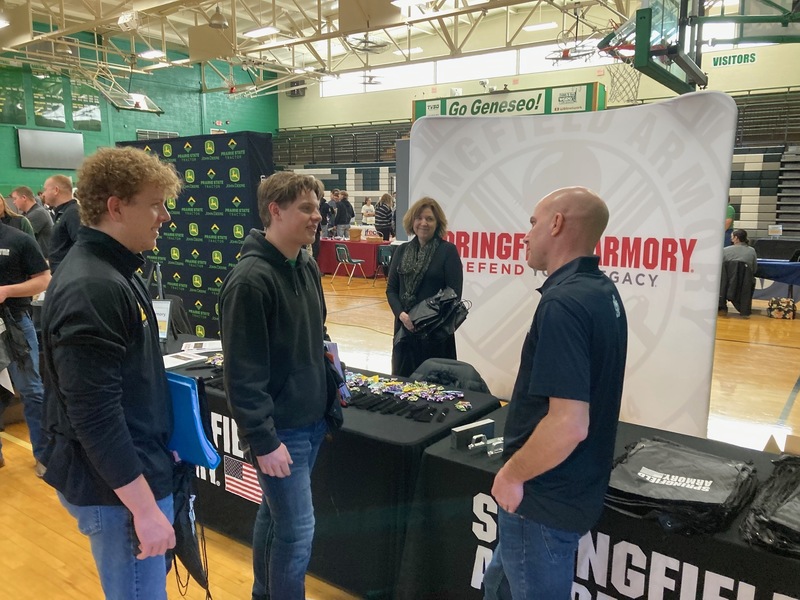 Whether the students were seniors on the verge of graduation or freshmen who are just beginning to think about their professional careers, the event helped connect the dots between what is taught in the classroom, and how and why it will matter beyond high school.
"We're creating multiple career pathways that are tied to not only our own academic standards, but the standards of different industries in the real world," Mackey said. "By working with different advisory groups, we're able to match our curriculum with what they might learn and experience in the future. The idea is to avoid any significant gaps so that upcoming students have an even better understanding of what to expect than previous students."