Geneseo High School has hired Ryan Hill to be its new varsity boys' basketball head coach.
Hill will also teach English at GHS. Both roles are pending approval from Geneseo's Board of Education, which will meet on Thursday.
Hill graduated from Davenport Central and attended St. Ambrose University, where he earned a pair of degrees—his bachelor's in secondary education and his master's in educational leadership.
After two years as an assistant coach for Davenport North, Hill returned to Davenport Central—where he played as a high schooler—to join Craig Wurdinger's staff as an assistant in 2011.
He was promoted to head coach in 2021, and though his team compiled a 4-18 record in his first year, it improved to 14-8 in his second year.
"We were impressed with the plan Ryan outlined to turn the program around," stated Joe Nichols, Athletic Director at Geneseo High School. "He had researched our situation and realizes where we are while seeing the opportunity that we have. He has a developmental approach that focuses on the processes and routines to create great players."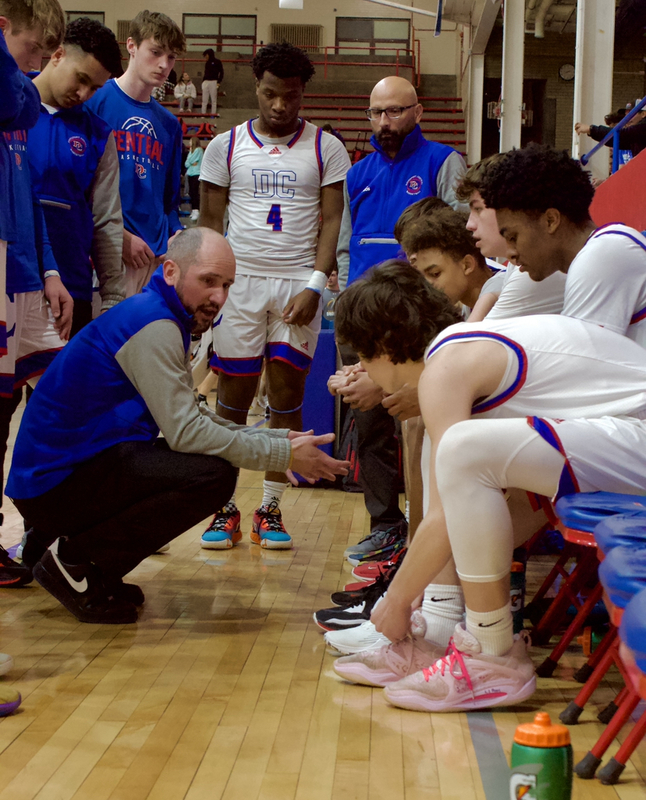 Leaving Davenport Central was an emotional and difficult decision for Hill, who said he's grateful for all that he learned and experienced at the school, as well as the players, coaches and teachers who he got to know over the years.
The opportunity in Geneseo, however, was too good to pass up.
"Geneseo has enjoyed quite a bit of success athletically across the board," noted Hill. "It's a community that is passionate about sports and supports its teams. The basketball program has historically been a winning program. There have been a lot of great players come through and I'm excited to get to work."
Hill said his decision to come to Geneseo would not have been made without the support of his family—his wife Marci, who is an assistant basketball coach at Pleasant Valley, and three children, Leighton (6), Maryn (3) and Breckan (1).
"My family is a huge part of my life and involved in every decision that I make," Hill said. "I'm extremely blessed to have a wife that is so supportive of my coaching career. Athletics play a large part in our family—siblings on both sides of our family are coaches, so we talk a lot about our experiences. It's been wonderful bringing my kids to practices and games and having them around. It's exciting for me, but they get excited as well."
While Hill won't officially report for duty until this fall, he's already thinking about what he'd like to accomplish in his first year.
"I want to begin by creating a culture and getting kids excited about playing basketball for Geneseo," explained Hill. "In the first year, I'll observe and get to know everyone from the staff to our players. I'd like to get a better understanding of what went well and how we can build on that, as well as what they'd like to see changed. That will help us generate the culture I hope to build, and we will adapt as needed."
Hill aims to be a players' coach, which in his mind relies upon strong communication between himself and his team to get their input and feedback.
"Davenport Central's previous head coach, Craig Wurdinger, stressed the importance of empowering our kids," Hill said. "I tried to develop my players and allow them to take leadership of our program. I view it as shared ownership—it isn't just my program; it is our program.
"You've got to establish a culture in order to be successful," added Hill. "Craig taught me how to build a staff and have a rapport with them, then extend that to the team so everyone has the same values. It's important to have patience too, both in practices and in games. Not everything that we want to accomplish will happen overnight."
While Hill will have a presence on the hardwood, he also looks forward to being in the classroom as an English teacher.
"Being a teacher allows students to see me in a different light," he noted. "Different students excel in different areas. I think being in the building will be a huge component to coaching, especially when it comes to building relationships. There will be a lot of newness, so the more that I can be in front of people and around our players, the better."
It's all those elements—Hill's experience as a coach and teacher, as well as how he plans to achieve success in those roles—that made him such an appealing candidate to Nichols.
"Ryan is very knowledgeable about basketball but is, even more importantly, a great teacher who builds great relationships with his players and gets the most out of them," said Nichols. "We are very fortunate to attract such a great candidate to lead us into the future and I thank the board and superintendent for their support in helping us get it done."
As he prepares for a new chapter in his life, Hill's message to Geneseo's basketball players—whether they are a junior in high school or playing in a youth league—is simple and straightforward.
"Geneseo is a tight community that cares about its sports and when it comes to basketball, we hope to build on what's already there," said Hill. "I am optimistic everyone will be excited for a new opportunity and I'm looking forward to meeting everyone and getting to work. I'm going to be dedicated to our program and we'll get as many kids as possible into the gym to get started. Hopefully, we'll enjoy some success in the years to come."