Flying an airplane isn't on the radar for many high school students, but Geneseo High School's Aviation Club is trying to change that.
Formed in May of 2022, the mission of the club is to expose GHS students to educational opportunities and professional careers in the aviation and aerospace fields.
Its faculty club sponsor, Kyle Bess, Board of Education member Kyle Ganson, and Gen-Airpark's Kent Johnson (President of EAA Chapter 410) were all instrumental in helping the club take off, and now, it's the students who are co-piloting the program.
During a recent gathering at Gen-Airpark, Cooper Ries and Jack Magerkurth explained why they decided to join the club.
"We both had an interest in aviation and saw that there was a lack of opportunity to learn about it," said Ries, who had experience working with a flight simulator. "We were able to find the people who helped us get started and get others involved."
"I've always had an interest in flying and when the aviation club was just a thought, I got involved and kept going to the meetings," explained Magerkurth. "After school, I'm hoping to get a job in the airline field, perhaps Boeing or Lockheed Martin. Learning how planes work through the club really helps."
Last summer, the Aviation Club focused on providing multiple flights to students through the EAA Young Eagles. By joining the Young Eagles Flight Plan, a free EAA student membership is activated, and students can redeem a complementary Sporty's Learn to Fly Course, a $279 value.
Club members have also gone on a variety of tours, visiting the Quad Cities International Airport (MLI), the Moline Quad City Tower, John Deere's aviation facility—which included access to Gulfstream G-5 jets that the company utilizes for international travel—and Elliott Aviation.
"They've all been pretty cool but the tour at John Deere's hangar and seeing their jets was my favorite," said Magerkurth. "They have really nice jets, and it was fun to see them up close."
"I was more about seeing the tower in Moline," said Ries. "That really pulled me in. Air traffic control is what I'm focused on for my career path, for now. We're hoping to get to O'Hare, Chicago Approach or Chicago Air Route Traffic Control Center at some point."
While learning to fly is what interested most club members, students have gained a great deal of knowledge about what else working in the aviation and aerospace industry entails.
"The field is vast in terms of the opportunities," noted Ries. "You can be an air traffic controller or work in maintenance at an airfield. The complexities of aviation are what make it challenging but also fun. That's something I look forward to when I come to the airport."
"The club has shown us how many opportunities there are in the field," Magerkurth agreed. "From visiting Elliott Aviation, John Deere, and Moline's terminal and maintenance areas, we were able to see all the work that goes into flying."
The adult organizers of the club are pleased with all that it has accomplished in just over a year. Now, their hope is that aviation and aerospace engineering will eventually become part of the high school's curriculum.
"The enthusiasm from students about the club has been wonderful to see and there is so much more we can do," stated Ganson. "If we can introduce aviation and aerospace engineering as elective classroom opportunities, possibly in conjunction with Black Hawk College and/or surrounding school districts, it would be a positive step in helping to offer Geneseo's students the best education they can receive and also remain attractive to prospective new residents."
It's something both Magerkurth and Ries would be excited to see as well.
"There are so many technical aspects, and with the high school's new Career and Technical Education Center, it would make sense to tie in aircraft mechanics and maintenance," said Magerkurth.
"I'd love to see it worked into our curriculum because if classes could cover what is taught in ground school, the teacher may then be able to endorse students to take the FAA written test," said Ries. "There wouldn't be any additional ground school needed and all that would be left to get their license would be flying."
The Aviation Club has already made a significant impact on its members with most saying that not only will flight be a permanent part of their lives, but it could lead to a professional career.
Magerkurth, who graduated from GHS this year, will attend Missouri University of Science and Technology in the fall to study engineering. This summer, he and another club member, Drew Nelson, will work for the Moline airport's maintenance department.
"We do a lot of mowing, but we also see all the work that goes into it," explained Magerkurth. "A maintenance worker the other day was saying how the length of the grass at an airport is important to keep wildlife out for the safety of the planes and passengers with how bird and animal strikes can take out planes even though they are small. We're learning a lot."
Nelson will continue his education at the University of Dubuque, where he will study aviation with the hopes of becoming an airline pilot.
Ries, whose father Jim is an FAA Ground School Instructor who helps with the Young Eagle flights and recently became a licensed commercial pilot, just completed his sophomore year at GHS. He's already completed a solo flight and hopes to get his private license in October.
When asked what they would tell a student who is considering joining the Aviation Club, their message is simple.
"To be able to fly an airplane through a program at the high school is pretty cool," said Ries. "Definitely," added Magerkurth. "Once you fly, you get hooked. It's a new feeling and experience that is so much fun."
For more information on Geneseo High School's Aviation Club, contact Kyle Bess (kbess@geneseoschools.org) or Cooper Ries (riescooper316@gmail.com).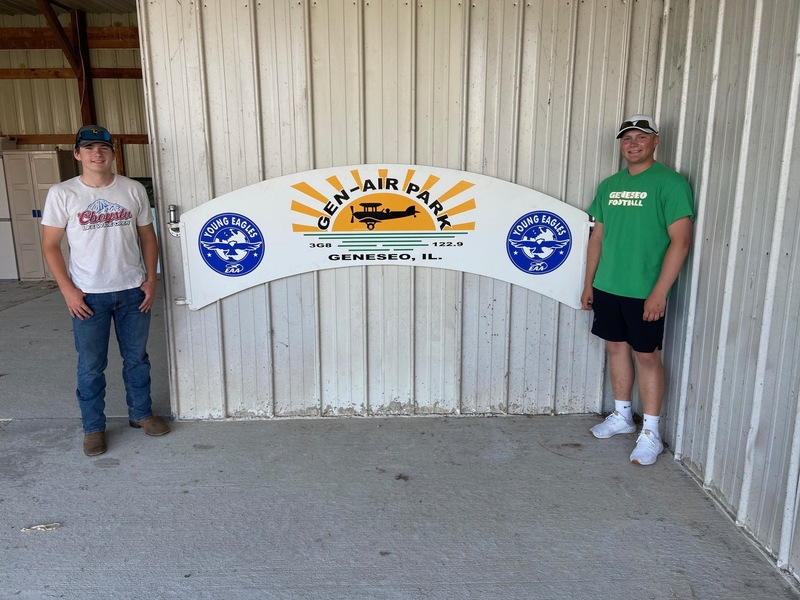 PHOTOS BELOW: The GHS Aviation Club gets a behind-the-scenes look at the Quad Cities International Airport.