Among the many disruptions caused by the COVID-19 pandemic was to the sports world when athletes of all ages were forced to the sideline in the spring of 2020.
Leagues around the world gradually returned in the coming months, but it wasn't until a year later that the IHSA allowed high school athletics in Illinois to resume.
It was at that point that Keith Kennett, founder of Geneseo's TV50, knew what he had to do.
"The pandemic has been difficult on everyone, but my heart really went out to our students who missed out on athletics, including those in the performing arts," recalls Kennett. "Sports eventually resumed, but it was limited attendance. The students had gone through so much, and it became a personal quest to do everything I could to get as many events broadcast as I could."
Between mid-February and the end of June, Kennett's TV50 aired an incredible 102 live broadcasts of school and community events. For his efforts, he has been awarded a Maple Leaf Medallion by Geneseo Community Unit School District #228 superintendent Dr. Adam Brumbaugh.
"It's an important service Keith provides," says Geneseo Athletic Director Joe Nichols. "His drive over this last year to broadcast as many games as he could in addition to all his other commitments has been remarkable. It seemed like he found a way to be in three places at the same time. He's a behind-the-scenes guy, but he deserves this recognition, and I don't know that we can thank him enough."
It's been quite the journey for Kennett, a Brookfield native who moved to Geneseo in 1992 with his wife, Kim, and their daughters, Jamie (Kennett) Kotovsky and Stephanie (Kennett) Prochaska.
"None of this happens without an incredibly supportive wife and family," he's quick to note.
In 1995, Kennett began broadcasting Green Machine football games on the local cable access channel, and as part of a Jaycees project. The next year, he founded TV50 as a community cable channel.
Kennett had no grand visions of what it might become—he simply enjoyed the work and saw it as his way of giving back to what he feels is a special community.
"Geneseo is this unique blend of people who were born and raised here, and those who relocated here," says Kennett. "We quickly appreciated the many special things that happen in our community. We wanted to focus on all of the positives, and never take what makes Geneseo a special place for granted."
While Kennett has no formal training in broadcasting, he took an interest in it while attending Riverside-Brookfield High School and gradually familiarized himself with different equipment.
The transformation of TV50 over the years has been substantial. It remains a channel on local television under Mediacom, but it can also be viewed digitally—online at WB6network.com and via Roku's WB6network TV50 app. As a result, people can tune in to the broadcasts from anywhere in the world—and they do.
Streaming currently represents approximately 70% of TV50's viewers, including people throughout the United States and Europe. For any given event, hundreds, if not thousands, of people are watching, says Kennett, with the highest viewed events being playoff football games.
Kennett has a deep appreciation for all who have helped by announcing games, specifically mentioning Willis Andel and the late John Rowley, along with James Roodhouse, the district's Director of Technology. TV50 offers no salaries or benefits—it's all on a volunteer basis, aside from Kennett picking up an occasional meal tab.
"I really enjoy the work and it's been rewarding," says Kennett. "I'm very blessed to work with tremendous people. Everyone's involvement is critical to the success of TV50.
"It's genuinely a labor of love," adds Kennett. "We live in a world where everything seems to be a profit center—even on the high school level, a lot of games are subscription or fee-based—so for us to volunteer and not make TV50 fee-based is part of our secret sauce that has enabled it to operate for so many years."
Rather, Kennett's main concern is allowing those who can't make it to a game to be able to follow along live or when it's rebroadcast, whether that is a parent with a busy schedule or more than one child involved in school activities, relatives who live out of town, or alumni who want to stay connected and tune in.
"For a high school like ours to have these capabilities is pretty unusual," says Kennett. "It's helped keep our community bonded together with the school district. Even if you're not at a game, if you're watching it, your spirit is there."
Kennett donated TV50 to the school district in 2019 and continues his volunteer involvement. He isn't sure of what TV50 will ultimately become and someday, Kennett will hand off his duties to someone else. Until then, there's a pretty good chance you'll see him at an upcoming football, volleyball or basketball game.
"The commitment that Keith demonstrates is a good model for our student-athletes," states Nichols. "It's why he's successful. He puts his nose down and grinds. Maybe the greatest indication of how well he's done is that the standard he achieved has now become an expectation. Not only does he provide an unprecedented amount of access, but you know when you're about to watch a game, it's going to be a professional-looking broadcast."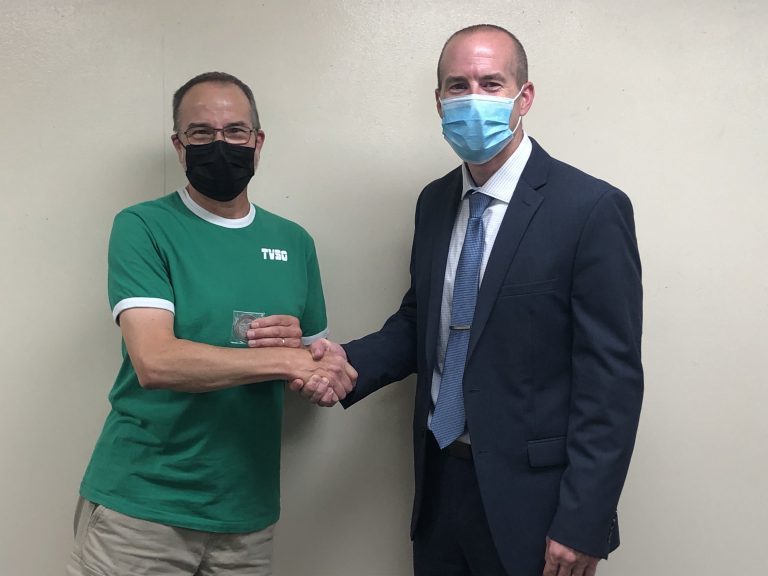 Keith Kennett is awarded the Maple Leaf Medallion by Geneseo Community Unit School District #228 superintendent Dr. Adam Brumbaugh.